Ventura Slip & Fall Lawyer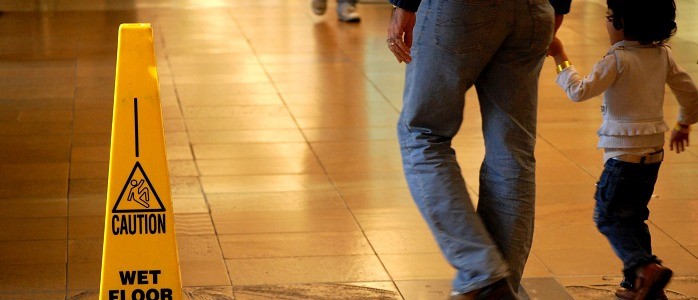 We often hear about slip and fall accidents in relation to icy weather, but these dangerous accidents occur in Southern California, too.  Slip/Trip and fall accidents typically happen in grocery stores or on public sidewalks. Whether you are walking across a slippery floor or down a sidewalk with a vertical displacement, you could be at risk of a serious slip/trip and fall accident.
If you've been injured in a slip, trip, or fall, you contact an experienced Ventura personal injury attorney. In numerous cases, slips and falls are preventable accidents, and the property owners may be liable for your injuries. Trevor Quirk and the attorneys at the Quirk Law Firm, LLP regularly assist slip and fall victims throughout Southern California and can examine the details of your case today.
Learning More About Slip and Fall Accidents
What is a slip and fall accident lawsuit? Injuries resulting from slips and falls typically result in premises liability claims. Premises liability law is an area of the law that allows injury victims to seek compensation from property owners who failed to take reasonable care of their property.
Where do slips and falls take place? These accidents can occur anywhere, including but not limited to the following:
– Retail establishments
– Office buildings
– City streets and sidewalks
– Parks and outdoor areas
– Restaurants
– Personal homes
Whether you are at the grocery store or headed to dinner at a friend's house in Ventura, you could be at risk of a serious slip and fall accident.
Slip and Fall Facts and Figures
How often do slips and falls occur? According to the National Floor Safety Institute, falls lead to more than 8 million emergency room visits annually, accounting for more than 20 percent of all emergency room visits. Slips, trips, and falls account for about 12 percent of the total reported fall accidents. Some other important facts include:
– Falls often result in serious fractures or broken bones. For elderly victims of slips and falls, hip fractures are the most common and most serious type of fracture.
– Slips and falls can also lead to serious and fatal traumatic brain injuries (TBIs).
– A slip and fall accident is the most likely occupational injury for employees aged 55 and over.
– According to the Consumer Product Safety Commission, floors and flooring materials are the leading cause of slips and falls each year, leading to more than 2 million injuries annually.
– At homes, fall accidents represent more than half of all accidental deaths, and most happen at ground level.
Contact A Ventura Slip and Fall Lawyer
If you or a loved one has been injured in a slip and fall accident, you should speak with an experienced Ventura slip and fall attorney.  An advocate at the Quirk Law Firm, LLP can talk to you today.  Contact us at (805) 650-7778 We are open 24/7 and offer free and confidential strategy sessions.