Ventura Car Accident Lawyer Ventura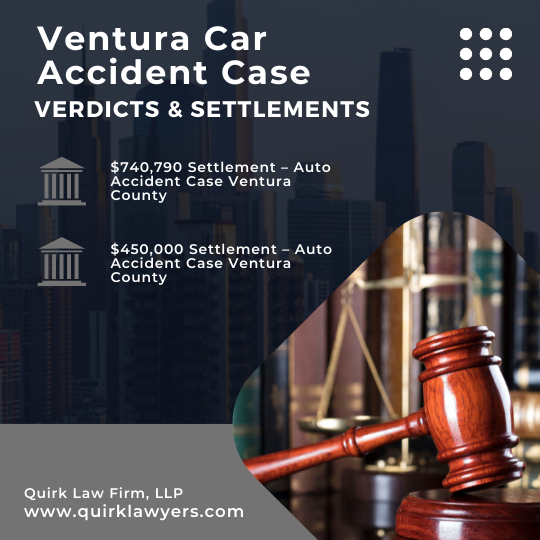 Residents of Ventura enjoy leisurely car rides along the coast on the weekends, while many commutes to other areas of Southern California for work. In short, Ventura residents tend to spend a significant amount of time in their automobiles. While we don't like to think about the risks of a deadly accident when we get behind the wheel, auto accidents do happen. In fact, the California Highway Patrol reported that 3,435 people sustained fatal injuries in auto accidents in 2015, while an additional 254,561 suffered serious injuries.
Despite the numerous safety features of modern-age automobiles, the victims involved in auto accidents and truck accidents still face a very real danger: the risk of severe personal injury or wrongful death.
Advances in technology have granted consumers airbags, crumple-zones, and anti-lock brakes to protect the occupants of a vehicle. However, these advances cannot prevent the negligent behaviors of other drivers.
If you have been injured in an auto accident caused by another driver, you should not have to absorb the financial and emotional costs. Contact a Ventura auto accident lawyer from Quirk Law Firm, LLP to learn more about how our personal injury attorneys can assist with your case. You may be eligible to seek compensation for expenses due to medical treatment, lost wages, and more.
Recent auto Accident Trends
Just how common are auto accidents in the state of California and what are the potential injuries? Some of the statistics may surprise you. According to the California Department of Public Safety, in 2008 there were a total of 123,943 traffic-related accidents. Within these accidents, 35,615 people suffered a degree of personal injury while 964 lost their lives. From this data we can see that:
About 34 accidents occur every hour across the state

40 people suffer a form of injury in an accident every hour

More than 200 people die on the streets and roads of California every day
The severity of an injury suffered by a victim of another driver's negligence can greatly vary. However, in recent times the experienced auto accident lawyers at our law firm have successfully represented automobile accident victims who suffered:
Broken or Fractured Limbs

Burn Injuries

Wrongful Death
Sadly, a great number of auto accidents do in fact end fatally. Due to this, if you have lost a loved one, it is vital that you contact our expert wrongful death accident attorneys as soon as possible. In many cases, a successful claim of wrongful death against the responsible party is the only way to recover financially from this type of accident.
Negligent Drivers Cause Accidents
While many aspects of irresponsible or unsafe driving contribute to the total number of auto accidents residents of California see each year, some factors contribute significantly more than others. Data collected by the Department of Public Safety shows that the top contributors to all vehicular accidents in the state are:
Driver not in control of the vehicle

Failing to yield the right of way

Unseen object or person (driver inattention)

Following too close
Not strictly limited to accidents caused by these factors, our law firm handles a wide variety of personal injury type cases stemming from car and other automobile accidents.
Ventura Car Accident Infographic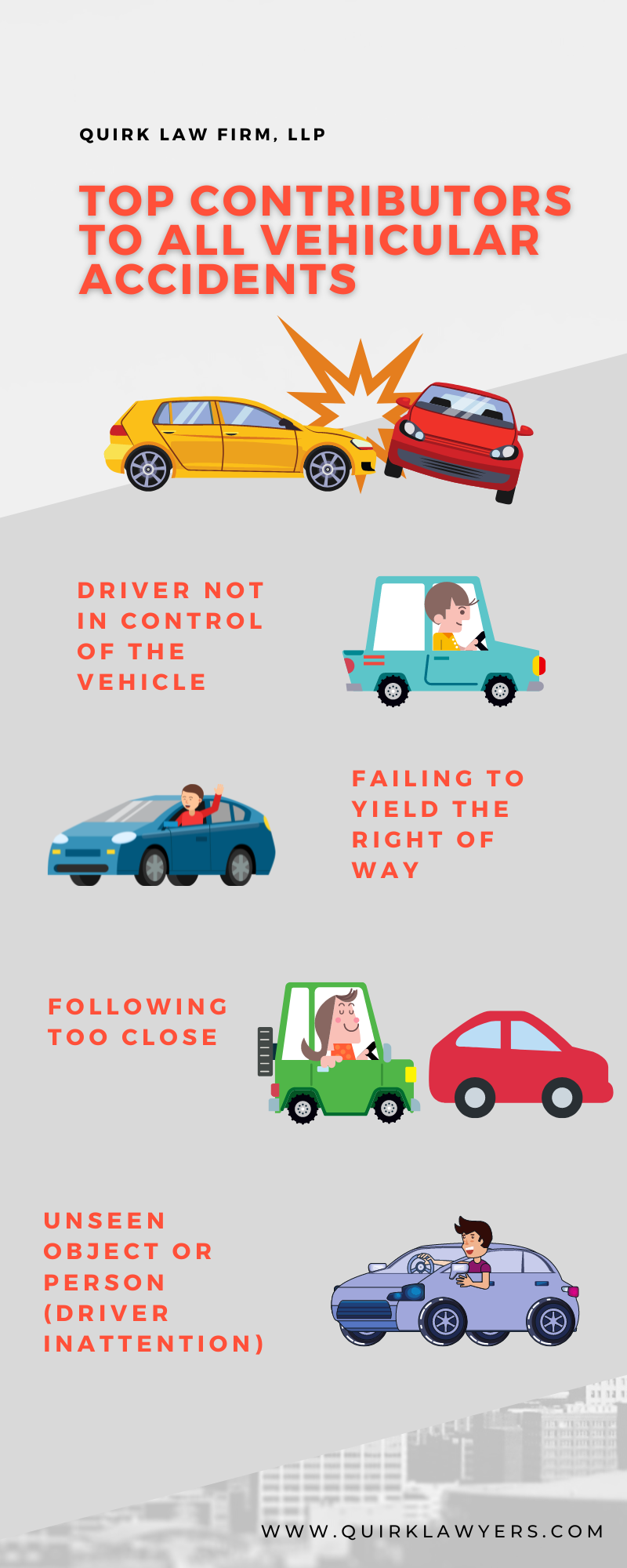 Ventura Car Accident Statistics
You can check out some information provided by the National Highway Traffic Association detailing motor vehicle fatalities by the year.
Two of the most common causes of auto accidents in Southern California include impaired driving and distracted driving. Here are some important facts about impaired driving:
When it comes to driving under the influence of alcohol, more than 10,000 people died in alcohol-related crashes in California between 2003-2012.

More than 30 percent of all traffic deaths involve a drunk driver.

In 2010 alone, the CDC predicts that drunk drivers (those with a BAC of 0.08% or higher) got behind the wheel of a car about 112 million times.
Distracted driving is also an important issue for California drivers. Here are some important facts and figures concerning distracted driving:
Distracted driving results in more than 9 people suffering fatal injuries every day in the U.S. and more than 1,100 sustaining serious injuries.

In 2012, more than 3,300 people died in crashes resulting from distracted drivers.

The CDC predicts that nearly 20 percent of all traffic collisions involve a distracted driver.

Sixty-nine percent of American drivers between the ages of 18-64 have admitted to talking on their cell phones while driving in the last 30 days.

Thirty-one percent of drivers between the ages of 18-24 admitted to receiving or sending a text message while driving in the last 30 days.

Auto Accident Practice Areas
Bicycle Accidents – Many Southern California residents enjoy cycling as leisure, exercise, and as a form of vehicular transportation. However, cycling can be extremely dangerous, especially when an aggressive driver or a distracted driver is oblivious.  If you or a loved one recently suffered a serious personal injury in a bicycle accident, consider contacting an auto accident lawyer to learn more about the process of filing a claim for compensation.  An experienced attorney at the Quirk Law Firm, LLP in Ventura, CA can speak with you today.
Hit and Run Accidents – Whether walking, riding a bike or motorcycle, driving, or any time you are on roadways there is an inherent risk of being involved in a hit and run accident. Hit and run accidents are on the rise, and can often result in serious bodily injury, or death. A hit-and-run accident can also involve damage to personal property without the knowledge of the property owner. For example, if a driver hits your parked car while you are asleep in your apartment and that driver leaves the scene without making an effort to contact you or the authorities. 
At the Quirk Law Firm, LLP, we understand the devastating nature of hit-and-run accidents while driving, and we have years of experience assisting clients in the Ventura area to seek compensation for their injuries.  If you or someone you love was injured in an auto accident crash, don't hesitate to contact our firm.
Pedestrian Accidents – According to the National Highway Traffic Safety Administration (NHTSA), in 2012 alone, about 5,000 pedestrians were killed in road accidents and more than 75,000 pedestrians were seriously injured. Pedestrians are much more likely to die in accidents than car occupants. If you are injured in a pedestrian or auto accident, it is important to contact an experienced Ventura auto accident attorney as soon as possible.
Motorcycle Accidents – If you or someone you love recently had a motorcycle accident, it is very important to hire a licensed attorney to defend your interests. The amount of medical bills that usually arise after a motorcycle accident can be astronomical and extremely high. This is due to the fact that medical assistance is required to restore the health of a motorist. It often takes motorists months or even years of therapy to achieve this goal. If you are injured in a motorcycle accident, it is important to contact an experienced Ventura auto accident attorney as soon as possible.
Texting While Driving Accidents – Texting while driving is a type of distracted driving that occurs on the highways and neighborhood streets in Southern California. It is illegal.  The California Department of Motor Vehicles emphasizes that, since 2009, it has been illegal in California to text while driving. If you are injured in an accident that was a result of texting and driving, it is important to contact an experienced Ventura auto accident attorney.
Truck Accidents – Because of the larger weight usually associated with tractor-trailers, traffic collisions involving these vehicles are often fatal.  If you or a loved one has been involved in a dangerous truck accident in Southern California, contact an experienced Ventura accident lawyer.
Uninsured Motorist Accidents – At the Quirk Law Firm, LLP, our auto accident attorneys understand how frustrating and difficult these cases can be, especially for accident victims who don't have uninsured motorist coverage. With our years of experience handling cases involving traffic collisions and bodily injury, we can help you to understand your options and to move forward with your case.
No Win, No Fees
Some auto accidents result in minor injuries and insignificant property damage. However, many traffic collisions lead to serious and fatal injuries. If you or a loved one recently suffered a severe personal injury in an auto accident, let our experience and record help you with your personal injury case.
Call us or use or our contact form to get in touch with our Ventura auto accident attorneys and begin your free strategy session. We also provide services in Nevada and various areas of Southern California.
Unlike other law firms, our cases are handled by local Ventura auto accident lawyers. This creates a more personable relationship between our attorneys and clients, enabling us to truly understand your concerns and goals while providing an exceptional level of commitment. We participate in every step of the claims process, identifying goals and devising solutions to attain your desired results.
Our attorneys are proud members of the Los Angeles County Bar Association (LACBA) and the Consumer Attorneys Association of Los Angeles (CAALA).
What is an auto accident attorney?
An auto accident attorney is a lawyer who specializes in personal injury law, and more specifically, car accidents. If you've been injured in a car accident, an auto accident attorney can help you file a claim and get the compensation you deserve. (If you're looking for information on what to do after a car accident, check out this post.) Car accidents can be incredibly traumatic experiences, and dealing with the aftermath can be overwhelming. That's where a Ventura auto accident attorney comes in – they'll take care of the legalities, so you can focus on healing.
Quirk Law Firm is experienced with auto accidents. Our legal team has the knowledge and resources to navigate clients through auto accident claims while still supporting them during life's unexpected circumstances. We help auto accident victims receive the compensation they deserve, so they can focus on recovering from their injuries and getting their lives back to normal as soon as possible.
We serve auto accident victims who are interested in filing personal injury claims against insurance companies or other institutions at fault for their injuries.
Why hire Quirk Law Firm as your car accident attorney?
If the thought of dealing with insurance companies or filing claims is giving you anxiety, then it's time to call Quirk Law Firm. We'll take care of all that for you so that your focus can be on recovering from your injuries as quickly as possible. 
At Quirk Law Firm we believe that our clients deserve more from their Ventura auto accident attorney than just aggressive legal representation. We want them happy at the end of this stressful ordeal so they can get back on track with their lives sooner rather than later. That's why we work hard every day at finding common ground between insurance companies and our clients' needs so both sides are satisfied with the outcome of their case without going through an expensive trial process or paying unnecessary fees along the way.
Our team has decades of experience handling personal injury cases, including complex litigation matters involving catastrophic injuries and wrongful death lawsuits. We have recovered millions in compensation for our clients over the years because we are relentless advocates who will fight hard to get them every penny they deserve – regardless of how big or small their case is.
Quirk Law Firm, LLP
877 S. Victoria Ave., Ste. 111 Ventura, California 93003
Ventura Car Accident Google Reviews
"Wow! I am so impressed with the services provided by Quirk Law Firm! The entire team was professional, prompt, and knowledgeable. I felt like I mattered and time was taken to ensure my case was handled well. I would highly recommend Trevor and his team!" – Angie N.
Recent Ventura Car Accident Case Verdicts & Settlements
$740,790 Settlement – Auto Accident Case – Ventura County
$450,000 Settlement – Auto Accident Case – Ventura County
At Quirk Law Firm we know how important getting back on track after an injury is for our client's quality of life as well as financial stability. We also understand that every client is different, so we take the time needed to really listen and learn about each person's situation before recommending a course of action. Then we work hard behind the scenes negotiating with insurance companies so our clients don't have to deal with stressful phone calls or paperwork while still healing from their injuries – which means less stress for them so they can focus on recovering! Our experience working at insurance companies gives us an advantage in auto accident claims, which means more money for the client.
We're here 24/7 to answer auto accident questions. We know it can be difficult to figure out what your next steps are after an auto accident, and that's why we encourage you to call us whenever you need help.
What Should I Do After a Car Accident?
If you have been in a car accident, the first thing you should do is call the police so that they can come to the accident scene and file a police report. Remember to ask for a copy of this report for your records. Then, try to take a few photos of the accident scene, including all the vehicles involved in the crash and nearby traffic signals. It's also important to seek immediate medical attention, even if you feel fine. Car accident injuries don't always show immediate symptoms, and you don't want to put your health in jeopardy.
What Are the Most Common Car Accident Injuries?
Car accidents can result in many types of injuries, ranging from mild to severe. Some of the most common car crash injuries include broken bones, concussions, spinal cord injuries, knee injuries, cuts and chest injuries. No matter what type of injury you think you sustained, be sure to get immediate medical care.
Are Rear Drivers Always Responsible for Rear-End Collisions?
Some people may assume that rear drivers are always liable for rear-end accidents. However, that isn't always the case. In some situations, front drivers may be held responsible. For instance, if the front driver neglected to repair faulty brake lights, he or she may be liable.
Do I Have to Accept the Insurance Company's First Settlement Offer?
No. In fact, it isn't in your best interest to accept the insurance company's initial settlement offer. It's not uncommon for insurance companies to contact accident victims and offer them a settlement. Unfortunately, these settlements aren't sufficient enough to cover all the damages, including medical bills and lost wages. It's better to let your car accident lawyer negotiate a fair settlement with the insurance company.
Will I Have to Go to Trial for Filing an Injury Claim?
The majority of car accident cases get settled out of court. However, that doesn't necessarily mean that your case won't go to court. If the insurance company isn't willing to offer a fair settlement, your lawyer may advise you to go to trial.
What Do I Do If I'm Partly to Blame for the Car Accident?
If you believe that you are partly at-fault for the car accident, you shouldn't accept blame. There are multiple factors involved in a car accident. Even if you are partly to blame for the accident, you may still be entitled to compensation.