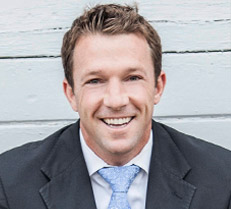 Trevor completed his undergraduate work at the University of California, Davis in 1999 and received his law degree from the University of the Pacific, McGeorge School of Law in 2003.
During Law School, Trevor was the recipient of numerous honors including, McGeorge Student Bar Association President, Outstanding Student Service Award, McGeorge Scholar Award, Alumni Association Scholarship, Gary V. Schaber Memorial Scholarship, William D. James Foundation Scholarship and McGeorge Environment Improvement Scholarship. Beyond the law school awards, Trevor is most proud of creating an after school tutoring program for underprivileged children at the Police Athletic League.
During Law School, Trevor was offered and accepted a job at a prestigious Las Vegas law firm.  Trevor passed the Nevada bar on his first try in 2003.  Trevor practiced in Nevada from 2003 until 2006.
In 2006, Trevor took and passed the California Bar on his first try.  Trevor then moved from Las Vegas, NV to Ventura, CA where he opened Quirk Law Firm.  Quirk Law Firm maintains offices in Ventura, CA and Las Vegas, NV.  Quirk Law Firm is a boutique personal injury law firm devoted exclusively to representing injured people, victims of defective products, victims of commercial trucking accidents and families of wrongful death victims.
Trevor was a Division I wrestler at UC Davis and an avid rugby player in law school. In his free time, Trevor enjoys surfing, snowboarding, fly-fishing, hunting, working on his ranch, playing with his children, and playing soccer.
Trevor is a member of the Ventura County Bar Association, the Consumer Attorneys Association of Los Angeles and the Nevada Trial Lawyers Association.
Trevor has obtained verdicts in Nevada and California and loves trying cases.
Please feel free to email Trevor at [email protected].