Trevor M. Quirk, Esq.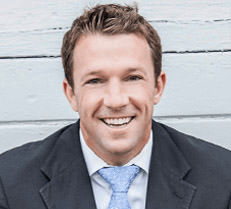 Trevor was just voted by his peers as the 2017 Ventura County Trial Lawyer of the Year. Trevor's peers voted him as the Trial Lawyer of the Year because he obtained several million-dollar verdicts in 2017 and then took 3 months off of work and helped his neighbors during the Thomas Fire. The Fire started 5 miles from Trevor's ranch and was the largest wildfire in California's history. Trevor fought the Fire, saved his home and several of his neighbors', took three months off of work, formed Upper Ojai Relief, raised over a hundred thousand dollars he distributed to the victims and continues helping his neighbors recover. The Ojai Community recognized Trevor by voting him Grand Marshall of the July 4, 2018, Parade.
Trevor grew up in Sacramento, CA where he went to Jesuit High School, UC Davis college and McGeorge School of Law. McGeorge awarded Trevor numerous honors, including, McGeorge Student Bar Association President, Outstanding Student Service Award, McGeorge Scholar Award, Alumni Association Scholarship, Gary V. Schaber Memorial Scholarship, William D. James Foundation Scholarship and McGeorge Environment Improvement Scholarship. Trevor played rugby for McGeorge and created an after-school tutoring program for underprivileged children at the Police Athletic League.
During Law School, Trevor was offered and accepted a job at a prestigious Las Vegas law firm. Trevor passed the Nevada bar on his first try in 2003. Trevor practiced in Nevada from 2003 until 2006.
In 2006, Trevor took and passed the California Bar on his first try. Trevor then moved from Las Vegas, NV to Ventura, CA where he opened Quirk Law Firm. Trevor has obtained several million dollar verdicts for his injured clients and loves being in trial.
Quirk Law Firm maintains offices in Ventura, CA and Las Vegas, NV. Quirk Law Firm is a boutique personal injury law firm devoted exclusively to representing injured people, victims of defective products, victims of commercial trucking accidents and families of wrongful death victims.
Trevor was a Division I wrestler at UC Davis, an avid rugby player in law school and has played soccer for Fillmore Celtic for 10 years. In his free time, Trevor enjoys playing basketball games with (and getting beat in PIG by) his 9 y.o. son Landon, running in the flowers with his 7 y.o. daughter Findley, playing Snoopy and reading books with his 5 y.o. son Colton, surfing, snowboarding, fly-fishing, hunting, working on his ranch and gardening.
Trevor is a member of the Ventura County Bar Association, the Consumer Attorneys Association of Los Angeles and the Nevada Trial Lawyers Association.
In addition to being 2017 Trial Lawyer of the Year, Trevor was honored by his peers and voted as a 2015 and 2016 Ventura County Trial Lawyers Association Trial Lawyer of the Year Nominee.
In 2017, Trevor was inducted into the American Board of Trial Advocates, an honor recognizing the highest achievement in legal advocacy. Trevor has tried cases to verdict in California and Nevada.
If you wish to contact Trevor, please email him: Trevor@quirklawyers.com