Ventura Truck Accident Attorney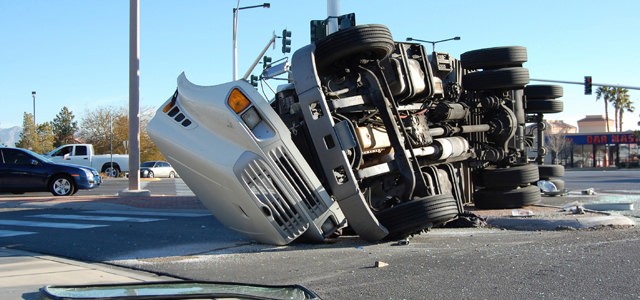 How often do truck accidents occur in Ventura? Given that it's on the route between Los Angeles and Santa Barbara, truck accidents occur with more frequency than most of us would like to believe especially along Highway 126 or the US-101.  Residents of Oxnard, Fillmore, Santa Paula, Simi Valley and other areas around Ventura hear about dangerous trucking accidents resulting in serious and fatal injuries.
Due to the fact that large trucks weigh substantially more—typically 10,000 pounds or greater—than regular passenger cars, traffic collisions involving tractor-trailers often lead to fatal injuries. If you or a loved one has been the victim of a dangerous truck accident in Southern California, contact an experienced Ventura accident lawyer.
Causes Of Ventura Truck Collisions
What causes truck accidents in Ventura and throughout Southern California? According to data collected by the Federal Motor Carrier Safety Administration (FMCSA), truck crashes are increasing. Indeed, about 5,000 fatal injuries and about 130,000 serious injuries result each year from truck accidents. In California alone in 2012, the California Highway Patrol reported that nearly 3,000 people died in traffic collisions and more than 226,000 suffered injuries.
Some of the causes of trucking accident include but are not limited to:
Aggressive driving by truck drivers or drivers in other passenger vehicles, including speeding
General failure to obey traffic laws
Drowsy driving
Fatigued driving
Distracted driving
Driving under the influence of drugs or alcohol
Improper driver training
Improper vehicle maintenance and
Environmental factors
Liability For Truck Accidents In Ventura
California has its own laws governing the trucking industry, but truck drivers also must abide by federal regulations from the U.S. Department of Transportation and the Federal Motor Carrier Safety Administration ("FMCSA").  The FMCSA is responsible for truck safety regulations.
Drug & Alcohol Testing
Federal Regulation 49 CFR 382.303-Controlled Substances and Alcohol Use and Testing
Under certain circumstances, Federal Law requires truck driver employers to test their employee truck drivers for alcohol and controlled substances.  Tests shall be conducted if the crash involved a fatality; if the trucker received a citation within 8 or 32 hours of the crash and the crash involved a tow-away or injury.  The tests must be performed as soon as reasonably practicable following the crash.
Drive Logs
Federal Regulation 49 CFR 395.8-Driver's record of duty status
Federal Law requires truck drivers and their employees maintain drive logs.   Drive logs shall be maintained for 6 months.
Daily Vehicle Inspection Reports
Federal Regulation 49 CFR 396.11 –Inspection, Repair and Maintenance
Federal Law requires truck drivers prepare a written report at the end of each day's work covering the truck he or she was operating.  The reports shall be maintained for 3 months.
Since the drive logs and reports only have to be maintained for 6 and 3 months respectively, you should immediately contact a lawyer if you are involved in a crash with a truck.
In the event that a loved one is seriously injured or killed in a truck accident, who is liable?
It's important to remember that each case is different, and every accident has many factors that can play a role in determining liability. At the same time, however, trucking collisions in Ventura often result from the negligence of one of the following people or entities:
The truck driver: whether the driver is speeding or has fallen asleep at the wheel, the driver's negligence may be a factor in the accident.
The owner of the truck company: trucking companies have certain duties when it comes to hiring drivers and ensuring that they're abiding by state and federal laws. When accidents happen, the truck company may be liable for injuries.
The manufacturer of a truck part: product liability issues often come into play in truck accidents, as defective auto parts (such as airbags or tires) may play a significant part in causing a deadly accident.
The shipping company: when a truck's cargo isn't properly loaded, a dangerous accident can occur.
Contact A Dedicated Ventura Truck Accident Lawyer
Truck accidents can happen anywhere, from the highways in Southern California to the in-town roads of Ventura. If you were injured in a truck accident or automobile accident, contact Ventura car crash lawyer Trevor Quirk at the Quirk Law Firm, LLP today. Contact us today at (805) 650-7778. We are open 24/7 and our strategy sessions are always free.