Ventura Motorcycle Accident Attorney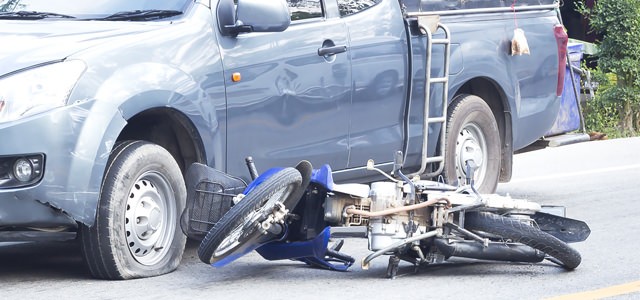 A motorcycle ride along the 101, Highway 150 between Santa Paula and Ojai, Highway 33 above Ojai or Highway 126 between Los Angeles and Ventura can make for a perfect weekend leisure activity. However, motorcyclists are at greater risk of a serious or fatal injury than other vehicle passengers, especially when they are involved in a traffic collision.
The California Highway Patrol recently developed a Motorcyclist Safety Program, but training cannot always prevent a serious accident. Indeed, many fatal motorcycle collisions result from the negligence of another driver. If you have been involved in a motorcycle accident, truck accident, or if you have recently lost a loved one in a crash, you should contact an experienced Ventura car crash accident and personal injury attorney to learn more about filing a claim for compensation. Motorcycle accidents are far more dangerous than a regular automobile accident. This is as result of one's body being completely unprotected and exposed during a crash. A motorcyclist cannot benefit from the metal exterior or frame of a car to shield them from the violent impact of a crash. Nor can the cyclist depend on airbags, seatbelts, or any of the other safety features in automobiles made to prevent catastrophic injuries. Thousands of individuals suffer serious or fatal injuries from motorcycle accidents on a yearly basis in the state of California.
Motorcycle Accident Facts & Figures
According to the California Highway Patrol, motorcycle accident fatalities have been on the rise in our state. The total number of fatalities increased by 175 percent between 1998 and 2008, from 204 to 560 reported deaths. While the following years showed a slight decrease, the years between 2011-2014 again showed increases in the total number of motorcycle accident fatalities on California's roads.
In response to the rising number of fatal crashes, the California Highway Patrol has publicized some important facts and figures surrounding motorcycle accidents:
– Age is a significant factor in deadly motorcycle collisions. For instance, only about 10 percent of all licensed riders are between the ages of 15-24, but that age group accounts for between 11-13 percent of all reported fatalities.
– Sex is also a factor in motorcycle collisions. Indeed, male riders account for a shocking 90 percent of all reported motorcycle accident deaths in California.
– Nearly two-thirds of all deadly motorcycle crashes are linked to three important factors: speeding, improper turning, and driving under the influence of alcohol or drugs.
– Motorcyclists are actually responsible for a majority of the accidents that occur in California. About 65 percent of all fatal motorcycle accidents implicated the rider, while about 56 percent of all injury-causing motorcycle crashes implicated the rider.
When motorcycles are involved in accidents with other vehicles, 77% of them are struck in the front of the motorcycle by the other vehicle. Surprisingly, only 7% of motorcycle accidents involve a rear end collision. Sadly, an alarming 47% result in a fatality to the motorist. More than half of these fatal crashes are caused by the opposing car making a left turn in front of the motorcyclist. An alarming 75% of all motorcycle accidents involving another vehicle are caused by the drivers' failure to see the motorcycle before the collision. In 98% of cases the brunt of the injuries are suffered by the motorcyclist instead of the other driver when an automobile is involved.
Among the injuries suffered by motorcyclists are: Traumatic Brain Injuries, fractures, amputation of limbs, paralysis, spinal cord damage and soft tissue damage.
Ventura Motorcycle Safety
How can motorcyclists stay safe on the roads? The Motorcycle Safety Foundation provides some important safety tips for riders in Southern California and throughout the country, including but not limited to the following:
– Make yourself visible on the roads. Much like a bicyclist, it is important that automobile drivers can see you. Ensure that your lights are working, use reflective strips, and do not be afraid to use your horn.
– Wear protective clothing. In addition to a helmet and eye protection, wear thick, long-sleeved clothing in the case of a collision to prevent harmful road rash.
– Stay aware of your surroundings and follow the rules. By giving yourself space on the road, you'll have time to respond to other drivers' negligent behavior. And by avoiding any aggressive driving tactics, such as weaving between lanes or speeding, you will help keep yourself safe.
Contact A Dedicated Ventura Motorcycle Accident Attorney
If you or someone you love has been in a recent motorcycle accident, it is critical to hire a licensed attorney to protect your interests. The amount of medical bills that usually follow a motorcycle accident can be astronomical and extremely overwhelming. This is due to the amount of medical attention necessary to bring the motorist back to a healthy condition. Many times motorists require months or even years of therapy to accomplish such a goal. These therapies can be very expensive. This is especially frustrating, as on many occasions, motorists are unable to work for long periods of time as a result of their injury and are thus unable to pay for such treatment. The Quirk Law Firm is here to help you through this difficult situation. Attorney Trevor Quirk will be able to refer you to medical facilities and therapies that will not require you to out of pocket any money prior to getting therapy or medical treatment. The Quirk Law Firm will fight to get those therapies paid for by the insurance company of the individual responsible for the motor vehicle accident. That is our goal at the Quirk Law Firm. Getting you compensated for the pain and suffering you have undergone while fighting to have all of your past and future medical bills paid by the at-fault party's insurance company.
Suffering an injury in a motorcycle accident can be tragic and debilitating. If another driver's negligence caused your injuries, you deserve to be compensated. At the Quirk Law Firm, LLP, we have years of experience handling motorcycle accident claims and representing motorcycle accident victims. Contact a dedicated Ventura motorcycle accident attorney today to learn more about how we can advocate for you.