Slip and Fall Lawyer Ventura, CA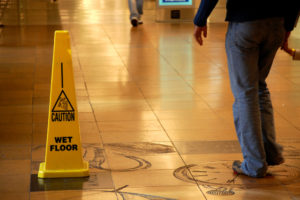 Many people are injured each year because they slip on a wet floor, tumble down a defective staircase, or trip on uneven ground.  When a visitor falls and is injured on somebody else's property, he or she may be able to bring a premises liability lawsuit against the property owner or occupant to recover damages. When you slip and fall and become injured, you may seek the assistance of a personal injury lawyer that specializes in slip and fall, or premises liability cases. A slip and fall lawyer Ventura, CA residents look to for dependable legal assistance is Quirk Law Firm, LLP. Our firm is well equipped to represent you in any slip and fall case. We will work with you and your family to create a strategy that is specific to the specific needs of your case that is designed to achieve the most desirable outcome.
Reasonable Care and Negligence
In most states, whether the visitor is able to recover will depend on the visitor's status on the property and on whether the property owner or occupant used reasonable care to prevent slips and falls on the property.
In order to be held liable for a slip and fall in most states, a property owner or occupant (or an employee) must be found negligent. As the law varies by state, typically the owner or occupant must have caused the spillage or other dangerous surface, knew about the dangerous surface and did nothing about it, or should have known about the dangerous condition and did nothing about it.
Elements of Negligence
Duty (generally, the duty of reasonable care)

Breach (the defendant failed to meet their duty)

Causation (the defendant's breach caused the plaintiff's injuries)

Damages (the plaintiff was injured)
Compensatory Damages
In slip and fall cases involving catastrophic injuries, it may be appropriate to hire multiple experts, including accident reconstruction experts, medical experts, and economists.
Compensation for damages that may be suitable to seek include: 

medical expenses

out-of-pocket expenses

Loss of income

Family services

Vocational rehabilitation

Disability

Inability to enjoy activities

Pain and suffering 
Slip and Fall Lawyer Ventura, CA
Quirk Law Firm, LLP is a full-service personal injury law firm. We have offices in Ventura, California and Las Vegas, Nevada. Our Ventura, CA slip and fall lawyer team has more than 20 years of comprehensive legal experience. If you believe that you have recently been injured in a slip and fall accident due to the negligence of a property owner or occupant, please consider contacting an experienced Quirk Law Firm, LLP Ventura, CA slip and fall lawyer. Our firm is trusted by residents because we provide an exceptional level of service to clients. Our individualized approach to our clients' cases helps ensure that we are providing the highest level of care and attention to detail possible.
Our customers receive personal attention. When you meet with a lawyer in person, you will learn from them to gain a complete understanding of how a personal injury case works, and you will be notified about every step of the process. We are an advanced, paperless personal injury law firm, and we will communicate with you electronically for your convenience and ease of access to updates.