Sexual Harassment Lawyer in Ventura, CA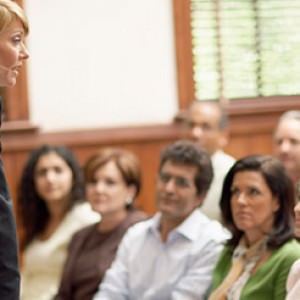 As a trusted sexual harassment lawyer Ventura, CA residents rely on knows, sexual harassment can come in many forms. Although it can take the form of obvious physical contact, our team at Quirk Law Firm, LLP knows that many people are more hesitant to file a claim against someone else when they feel that it falls into a gray area. Whether you have experienced sexual harassment from a co-worker at your office, a stranger on the street, or a close friend, you should never feel unsafe and think that there is nothing to do. Reach out to the trusted team at Quirk Law Firm, LLP when you are ready to take that brave step forward and file a legal claim. We understand that this is a difficult time for you and we are prepared to walk you through each legal step one at a time. 
What constitutes sexual harassment? 
It can sometimes be hard to spot sexual harassment when it is occurring. In fact, some people are so good at harassing others that they are able to make a situation all the more confusing. You may not have fully realized you were being sexually harassed at the moment until you left the situation. However, sexual harassment, while not always obvious, can make you feel uncomfortable and like you need to get away as soon as possible. Sexual harassment can be: 
Someone giving you unwanted physical contact

Someone discussing sexual acts in general or sexual acts they would like to do to you

Offering you something that will benefit you in exchange for a sexual favor

Someone making slurs or jokes 

Someone explaining sexually suggestive content 

Someone making threats to you regarding your employment if you do not engage in sexual acts
When you have experienced any of the above and none of it was consensual, a reliable Ventura, California sexual harassment lawyer knows it is time to call our office to begin building evidence for your claim. 
Are sexual harassment and sexual assault the same thing? 
Sexual harassment and sexual assault are two branches of the same tree. With sexual assault, you will likely have experienced more violent or even incapacitating acts. The abuser will force you into sexual acts against your will. In either scenario, whether it is harassment or assault, it is best to seek legal counsel as quickly as possible after the incident. 
Should I go to the police if someone has sexually harassed me? 
While it is not always necessary, if you feel that someone has threatened you in any way or has made it clear that they are going to harm you, you should always go to the police. Not only could this get you the protection you need, but it can also be solid evidence when building your case. 

As a sexual assault or harassment victim, can I seek damages?
As a victim in a sexual harassment or assault situation, you have the right to seek charges against the assailant. You may decide that filing a personal injury lawsuit against them to recover compensation for the way that you have suffered is the route that you want to take. If that is true, then we urge you to choose a legal team that understands the complicated and emotional aspect of cases like these. If you are wondering what types of damages you may be eligible to receive compensation for because of the sexual harassment, they have been listed here below:
Lost Wages
When you feel emotionally distraught, it can be difficult to go to work and take on the same responsibilities that you used to. You may not feel like the same person that you were before, and trying to get back into normal everyday life by working may feel impossible. If you file a lawsuit, your lawyer may be able to recover lost wages that you missed out on because you were unable to return to work right away. It's only understandable that you would not be able to work shortly after the incident, because you need some time to take care of your body in mind in the aftermath of it all.
Emotional Anguish
Sexual assault or harassment is bound to cause severe emotional distress. The entire situation may have been so traumatic that you feel stuck in your emotions and don't know what to do. You may be scared, anxious, depressed, and experiencing PTSD or nightmares since the incident. Let your lawyer know how you have been affected emotionally and what kinds of resources you need to help you recover. If you want to see a therapist, your lawyer can help set that up for you so that your mental health is taken care of as well. 
Medical Bills
After being a victim of a sexual assault act, it will be in your best interest to be treated for your mental and physical injuries. If your health insurance may not cover the medical expenses that you need, inform your lawyer immediately. You should not have to pay out of your own pocket for someone else's horrific behavior. You were the person who was forced to endure such a terrible act, so in no way should you have to pay any medical costs related to your injury. If you have already gone to see the doctor, ask for copies of medical documentation so your lawyer can review these. Medical documents can be used in your case to show to the extent that you have been injured and this can be factored into your monetary award. For more information after you have been sexually harassed, reach out to Quirk Law Firm, LLP now to speak with our sexual harassment lawyer in Ventura, California today. 

Common Misconceptions About Sexual 
Harassment
If you are the victim of sexual harassment, it is important to get in touch with a sexual harassment lawyer Ventura, CA residents trust. However, you may have heard certain misinformation that is making you reluctant to seek help. Here are some common misconceptions about sexual harassment that  you shouldn't believe.
Women are the only victims of sexual harassment.

This is likely the biggest myth about sexual harassment. While you might hear about women getting sexually harassment more often, but it can happen to men too. Men can also subjected to unwanted advances, sexual comments and other forms of sexual harassment. Both men and women have right against the anti-discrimination law.
Sexual harassment must involve sexual propositions.

When many people think about sexual harassment, they likely imagine sexual propositions. Although sexual propositions are a common form of sexual harassment, they are not the only kind. Other forms of sexual harassment include telling sexual jokes, making comments about a person's appearance, blowing kisses and using sexually suggestive nicknames. 
Sexual harassment is only against the law when it's intolerable.

Some types of sexual harassment may be more tolerable than others. However, that does not mean that one type is right and should not be punished. For instance, if a supervisor made one or two sexual jokes, some people might not see that as a big deal. However, you might feel uncomfortable coming to work. In this situation, you may want to contact a Ventura sexual harassment lawyer.
Sexual harassment has to be directed at someone.

To bring a sexual harassment claim, you do not have to experienced sexual harassment directly. For example, if you frequently overhear your supervisor making sexual or derogatory comments towards women, it can make for a hostile work environment.
If you work remotely, you can't experience sexual harassment.

If you work from home right now, you might assume that you can't experience sexual harassment because you are not physically around anyone else. However, believe it or not, it is still possible to experience sexual harassment while working remotely. For instance, a coworker might make obscene gestures make sexually offensive comments  during a video conference.
Sexual harassment will stop if the victim ignores it.

Unfortunately, some people think that sexual harassment will stop if it's ignored. This is not always true. Even if the victim tries to ignore the perpetrator, the sexual harassment may continue. It may even get worse over time. Therefore, victims of sexual harassment should inform their supervisor or human resources department as soon as possible.

Humans resources will always help sexual harassment victims.

Unfortunately, this is not always the case. Human resources are primarily concerned about protecting the employers they work for. Therefore, they might not always make sexual harassment complaints a top priority. If you reported sexual harassment to your human resources department and they have not done anything, you should contact a Ventura sexual harassment lawyer.
Ventura Sexual Harassment Infographic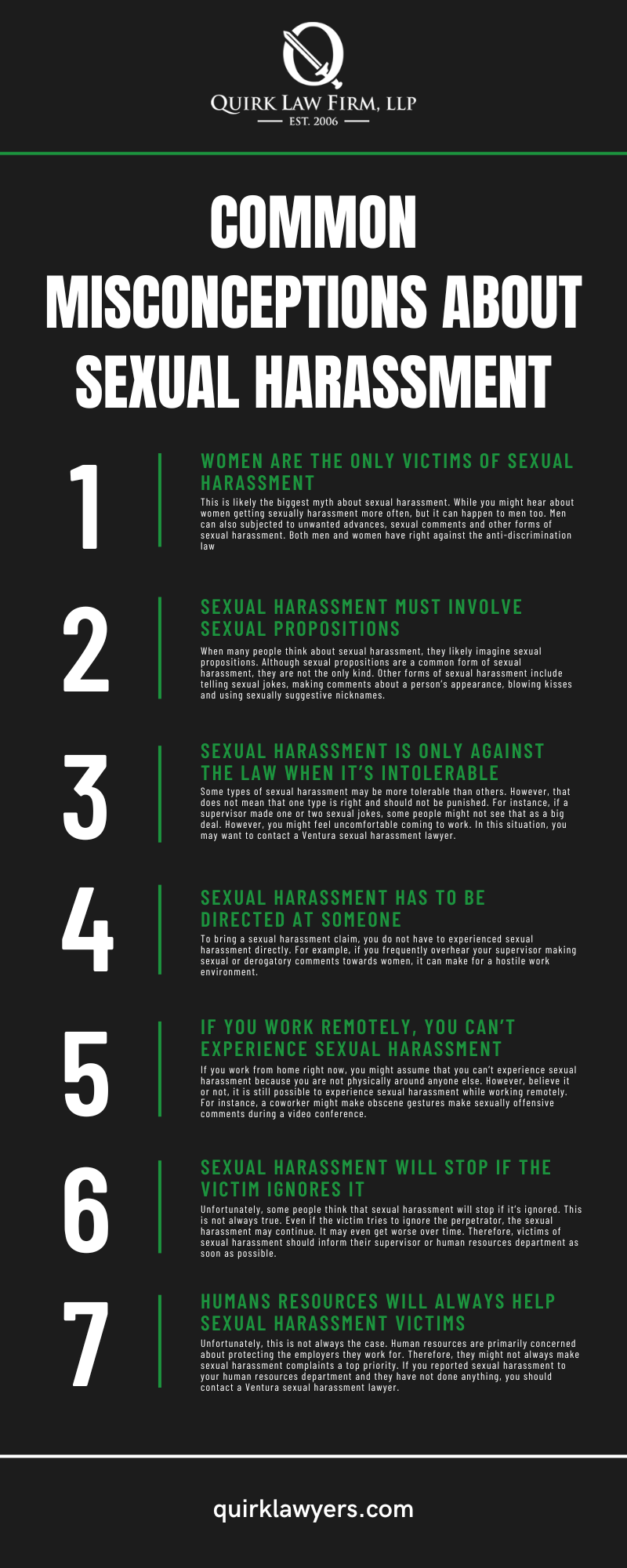 Ventura Sexual Harassment FAQs
If you are hesitating to schedule a risk-free, confidential legal consultation with a dedicated Ventura, CA sexual harassment lawyer, ask yourself what is holding you back. Do you have questions that need to be answered before you'll feel comfortable exploring your legal options? If so, know that this is why the reputable legal team at Quirk Law Firm, LLP offers risk-free, confidential consultations. We believe that every sexual harassment victim deserves to have their concerns addressed in a pressure-free environment. If you're not comfortable attending a consultation alone, consider bringing a trusted colleague or loved one along for support. They can provide support as well and help you to process the objective feedback we provide. As you're preparing to attend your consultation, browse these general answers to some of the questions we're asked most frequently. This information may inspire additional questions that you'd like to have answered when you meet with our team.
What if I've been sexually harassed at work?
You'll want to discuss the nuances of your situation with our Ventura sexual harassment lawyer team during your consultation, as you may be entitled to more than one kind of compensation depending on the nature of your circumstances. For example, in addition to pursuing any personal injury damages and/or crime victim's compensation to which you may be rightfully owed, you may be in a position to sue your employer. If you were sexually harassed or assaulted on the job and your employer should have protected you from that mistreatment, you may be in a position to hold them accountable.
What if I'm being sexually harassed at school?
If you're being sexually harassed at school, school administrators and/or the district may be held responsible for failing to protect you. If a teacher is sexually harassing you, you may have cause to hold them personally responsible for your mistreatment. Once we understand the ins and outs of your situation, we can provide you with personalized guidance regarding your options.
What if I'm being sexually harassed online?
Don't hesitate to explore your legal options simply because you aren't being harassed "in person." Online harassment can be just as harmful as harassment that occurs in the presence of one's harasser. If you're unsure of how to deal with an online harassment situation, the knowledgeable legal team at Quirk Law Firm, LLP can help.
How do I know if I have grounds to file legal action?
You likely won't know – at least, not for sure – whether you have grounds upon which to file legal action until our legal team has thoroughly and objectively assessed your circumstances. With that said, sexual harassment is actionable in a variety of contexts, so it is likely that if you're being mistreated in this way, there is something that we can do to help you seek justice.
Can a lawyer really help me?
One of the most challenging realities of a sexual harassment scenario is that this particular kind of mistreatment tends to feel very isolating. Know that you don't need to navigate this tough situation alone. While our Ventura sexual harassment lawyer team cannot guarantee a particular result, we will do our utmost to seek justice on your behalf.