Pedestrian Accident Lawyer Ventura, CA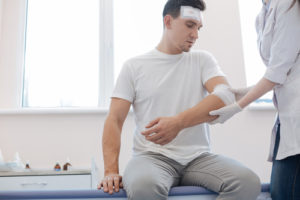 If you are injured as a result of the negligence of another person or group of people, you may be entitled to financial compensation from the person or persons allegedly responsible for the injury.
Quirk Law Firm, LLP is a full-service personal injury law firm. We have offices in Ventura, California and Las Vegas, NV. Our lawyers have over 20 years of combined legal experience. If you have recently been injured as a pedestrian by someone else's negligence, the best place to contact is a pedestrian accident lawyer Ventura, CA residents trust, from Quirk Law Firm, LLP.
Our clients are looked after personally. In an individual, one on one conversation with a lawyer, you will find out how personal injuries work and you will be informed about every step in the process. We are a state-of-the-art paperless personal injury law firm and communicate with you electronically.
Personal Injury Compensation
Damages
The plaintiff who complains of negligence must prove the defendant's obligations to the plaintiff, the breach of the defendant's obligations, the actual and proximate causes, and damages. If any of these factors are missing, the defendant can defeat the plaintiff's proceedings. However, a plaintiff with personal injury that happened as a pedestrian who can prove the defendant's negligence can potentially recover all compensatory damages necessary to make the defendant "whole".
The compensatory damages may be "economic" or "noneconomic." Economic damages are physical, more tangible damages that can be quantified, and their value does not change depending on the jury that is evaluating them.
Economic damages
Past and future medical expenses

Past and future lost wages

Household services

Vocational rehabilitation

Property damages

Out-of-pocket expenses

Lost earning capacity

Medical expenses may also be included under economic damages. These damages are bills that arise out of the injuries that are caused by the accident.
Noneconomic damages
Pain

Emotional anguish

Humiliation

Reputation damage

Loss of enjoyment of activities

Worsening of prior injuries
In some states, noneconomic damages are referred to as pain and suffering. In addition to the one who suffered the damages, a spouse may be able to recover a type of non-economic damage referred to as "loss of consortium". In the event of a wrongful death, or inability to seek legal assistance, a spouse can also be the one to seek legal counsel and fight for compensation for personal injury damages.
We give our clients the best results because we are trial attorneys and we will not back down to insurance companies and corporations. We sometimes choose to litigate personal injury cases when necessary.  Our pedestrian accident lawyers have a reputation of getting the desired result and other local and national law firms and lawyers refer us to cases.
Pedestrian Accident Lawyer Ventura, CA
Let us know if you believe that our firm may be of assistance to you or your family. Many people are injured in accidents, and they often need legal counsel to help them through the process.  Personal injury law can be very complicated, and you'll need an advocate who can fight for your rights.  Contact a pedestrian accident lawyer in Ventura, CA today. Call now to start your free strategy session.