Lyft Accident Lawyer Ventura, CA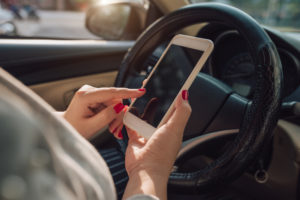 Contact a Lyft accident lawyer Ventura, CA residents trust, from Quirk Law Firm, LLP for more information on how our personal injury lawyers can assist you in your case. You may be eligible to seek compensation for expenses such as damages, medical treatment, and lost wages.
Ventura residents often utilize ride-sharing services such as Lyft for commuting purposes, traveling to and from work, going out for a night on the town, and almost anything in between. In short, residents of Ventura county often spend a significant amount of time traveling by car. Lyft and other ride-sharing services bring us an unprecedented level of convenience and immediacy to our lives and allow people who may not have a vehicle of their own to enjoy the freedoms that come with car travel. 
Inherent Risks of Ride Share
When Lyft arrives, we may take our seats without considering the inherent risks of riding with a stranger – without considering the possibility of an accident happening while traveling by Lyft. Although uncommon, with the rise of ride-sharing services such as Lyft, the likelihood of a serious accident has increased significantly. Sometimes, people tend to forget that drivers can be just like people we see on the road. This includes but is not limited to having a short temper, road rage, running through red lights, speeding, tailgating, and more. These risks can be minimal, but sometimes they can still happen.  For example,  In March 2020, two Lyft passengers filed a civil lawsuit alleging that, while on a harrowing ride, their driver acted recklessly by driving at high speeds and ignoring their demands to stop and allow them to exit the vehicle.  The reckless Lyft driver reportedly crashed into another vehicle in Burbank.  The lawsuit alleges reckless endangerment, negligence, and both intentional and negligent misrepresentation.  
Although this type of incident is a rare occurrence, with the large majority of ride-sharing passengers being transported to and from their destinations safely – there is always a possibility of an accident when you set foot in any motor vehicle. Then there have been other stories as well, such as drivers taking passengers on the highway at high speeds and refusing to pull over. No one was injured, but it still represented an example of the dangers and fear that reckless driving can cause.  When accidents do happen, it can become necessary to hire a personal injury lawyer who specializes in accidents involving drivers of motor vehicles who have demonstrated negligent behavior that led to the injury of others and themselves, and other damages such as property damage.
Lyft Driver Negligence
Many aspects of irresponsible or unsafe driving contribute to the total number of car accidents that Californians see each year, but some factors contribute significantly more than others. Data collected by the Public Security Bureau show that the main causes of all car accidents in the state are:
Distracted driving

Driver not in control of the vehicle

Failing to yield the right of way

Unseen object or person (driver inattention)

Following too close or tailgating
An example of distracted driving would be if someone has something on their mind, to the point where they are not looking at the road.  Another example would be texting while driving, or taking phone calls while driving. As for the driver not in control of the vehicle, this usually happens, when the person behind the wheel is too drunk to be in control of driving. Then there is failing to yield the right way, which means that the driver turns at a time, where they were supposed to wait, and in doing so, they may end up hitting a cat or pedestrian, who is trying to cross the street. 
Then, there is the fact of an unseen object or person. An example of this can happen when a person in black is walking at night, or when a truck is passing by, and they do not see a person below them. Lastly, following too close or tailgating can also be a major issue, since if the person has to stop suddenly, the driver behind, has no chance to put on the breaks. Now; not strictly limited to accidents caused by these factors, our law firm handles a wide variety of personal injury type cases stemming from car and other automobile accidents, including Lyft accidents.
Contact a Lyft Accident Lawyer in Ventura, CA
If you were injured in an accident involving a Lyft vehicle, contact a Ventura, California Lyft accident lawyer from Quirk Law Firm, LLP and begin your free strategy session. We provide services in Nevada and various areas of Southern California.  Unlike other law firms, Ventura injury attorneys handle all our cases, and we have experience with ride-sharing-related cases. This creates a personal relationship between our attorneys and clients, enabling us to truly understand your concerns and goals while providing exceptional commitment.  
Our claims department takes part in every step of the process, from identifying goals to devising solutions to reach the desired result. 
Common Misconceptions About Lyft Accidents
Many residents in Ventura, CA rely on Lyft to get around these days. They enjoy the convenience and affordability of the rideshare app. This has definitely increased the number of Lyft vehicles on the roadways, which unfortunately also increased the number of accidents. Here are the most common misconceptions about Lyft accidents.
Lyft accident claims are separate from other car accident claims.

This is not true. These accidents are actually quite similar to other vehicle collisions at least from a liability viewpoint. To have a successful claim, you have to establish that the accident happened because the at-fault driver breached the duty to operate a vehicle safely. The driver could be your Lyft driver or another driver who crashed into the Lyft vehicle.

Lyft accident laws do not apply to pedestrians and bicyclists.

Many people assume that only passengers of Lyft vehicles are eligible to receive compensation in accidents. The truth is that anybody hurt by a Lyft driver's negligence can sue for damages, including pedestrians and bicyclists.

Lyft drivers aren't covered by company insurance.

Because Lyft drivers are independent contractors, some believe that Lyft does not insure them. However, this is not the reality. Lyft and other rideshare companies are liable for the damage their drivers cause.

Lyft's insurance will always get you a huge payout.

Lyft carries a $1 million insurance policy for every driver. Therefore, some people might think that those injured in Lyft accidents will always get a huge settlement. This is not the case. Keep in mind that Lyft's insurance is a secondary policy and that the primary responsibility is in the hands of the driver. Damages are generally only covered by the company only if the driver had an active ride in the app when the accident occurred. If the driver causes an accident while waiting for a client to search for a vehicle or driving toward a client, the $1 million policy will not cover them.

You don't need a Lyft lawyer.

Just like you would hire a lawyer to file a traditional car accident claim, it is wise to hire a Lyft accident lawyer in Ventura, CA for a Lyft accident claim. A skilled lawyer will help you build a strong claim and handle all the negotiations with Lyft. He or she will not let them take advantage of you.
Our attorneys are proud members of the Los Angeles County Bar Association (LACBA) and the Consumer Attorneys Association of Los Angeles (CAALA).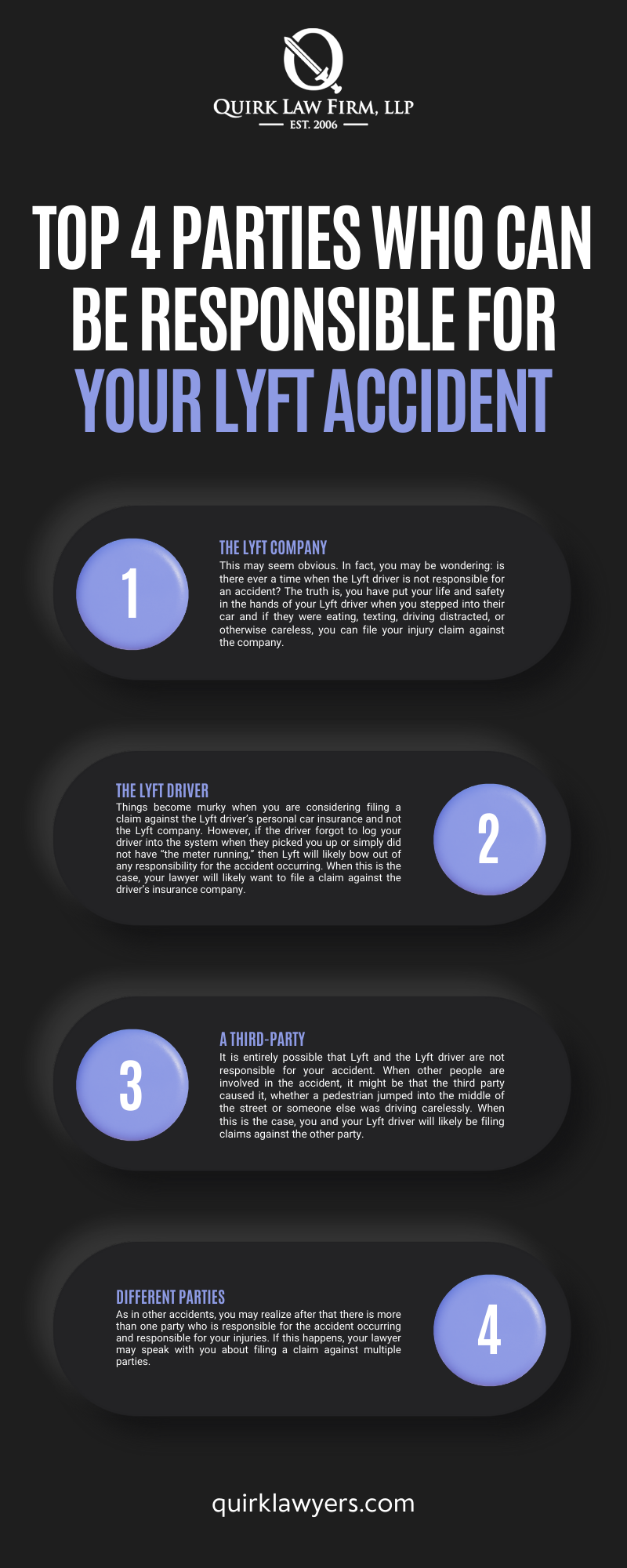 As many people are finding it, when you get into a rideshare accident of any kind, filing a claim can be quite complicated. While it is true that, for the most part, you will file a claim in the same way you would file one for any other car accident, you may be having a difficult time figuring out who is liable for the accident and who you should be filing your claim with. This is one of the reasons it can be so difficult to file a Lyft personal injury claim on your own. It is important that you get the help of a lawyer who has experience working on Lyft claims and who can guide you through the legal process. So, who is responsible for your injuries? 
The Lyft Company.

This may seem obvious. In fact, you may be wondering: is there ever a time when the Lyft driver is not responsible for an accident? The truth is, you have put your life and safety in the hands of your Lyft driver when you stepped into their car and if they were eating, texting, driving distracted, or otherwise careless, you can file your injury claim against the company. 
The Lyft Driver.

Things become murky when you are considering filing a claim against the Lyft driver's personal car insurance and not the Lyft company. However, if the driver forgot to log your driver into the system when they picked you up or simply did not have "the meter running," then Lyft will likely bow out of any responsibility for the accident occurring. When this is the case, your lawyer will likely want to file a claim against the driver's insurance company. 
A Third-Party.

It is entirely possible that Lyft and the Lyft driver are not responsible for your accident. When other people are involved in the accident, it might be that the third party caused it, whether a pedestrian jumped into the middle of the street or someone else was driving carelessly. When this is the case, you and your Lyft driver will likely be filing claims against the other party. 
Different Parties.

As in other accidents, you may realize after that there is more than one party who is responsible for the accident occurring and responsible for your injuries. If this happens, your lawyer may speak with you about filing a claim against multiple parties. 
Common Lyft Rideshare Questions
Rideshare accidents can be a scary thing to be a part of, and you may have plenty of questions as the passenger. You may be wondering if the accident was your driver's fault or someone else on the road, who is going to pay for your medical bills, and how are you going to pay your rent or mortgage if you have to stay at home from work to recover? These are all questions to ask your lawyer in the aftermath of a Lyft accident. Understandably, you may be confused, in pain from an injury, and unsure what to do next. Here are questions that clients often ask us, and after reading, we hope that you reach out to our law firm now for specific advice regarding your situation.
What if the driver is trying to blame me?
Lyft accidents are rarely the passenger's fault. If the Lyft driver is trying to blame you in some way for contributing to the accident, it's best to get help from your lawyer and not continue conversing with the driver. Stay at the scene, get medical attention if needed, wait for police to arrive, and then provide a statement to the officer of how the accident happened through your perspective. A copy of this report can be obtained from your local law enforcement office in the days to follow. This report is going to be useful to your lawyer, as it will include factual information about how the accident occurred.

What if the Lyft driver does not file a report?

Your driver may not file a report to Lyft about the accident because they don't want to get suspended and lose their job. In the aftermath of a rideshare accident, it will be important that you prioritize your best interests, because other people may not be doing so. Your lawyer can investigate the incident further and make sure that a report is filed to Lyft regarding the driver if they were responsible for what happened. Drivers who are reckless, even if they are rideshare drivers, should be held accountable for their actions.

Should I see a doctor?

If you still have yet to see a doctor for your injuries after the Lyft accident, you need to do so immediately. Let your lawyer know if you are unable to afford the medical bills associated with your injuries. In fact, you should not have to pay out-of-pocket for medical treatments when another person caused your injuries in the first place. As your lawyer may advise, it will be important that you start a paper trail for your injuries so that you have the best chances at getting repayment for any losses incurred. 

Get the Help You Need After a Lyft Accident 
Being in a Lyft accident can be difficult. Often, we feel safer when we use a rideshare service because we know that their job is to take us to our destination safely. You should not hesitate if you were in an accident while riding in a Lyft. Call our office to speak with our Ventura, California Lyft accident lawyer now from Quirk Law Firm, LLP. 
Our attorneys are proud members of the Los Angeles County Bar Association (LACBA) and the Consumer Attorneys Association of Los Angeles (CAALA).