Leonidas G. Nicol, Esq.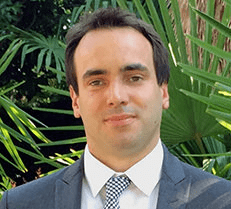 Leonidas received his law degree from Golden Gate University School of Law in 2015. He is a recipient of several awards for academic excellence, including Trial Advocacy, Advanced Trial Advocacy, and Alternative Dispute Resolution.
He was also a member of Golden Gate University's Mock Trial Competition Team where he competed against schools from across the nation. After volunteering at the Marin Public Defender's office, Leonidas accepted a position as an associate attorney with Quirk Law Firm, LLP.
In his free time, Leonidas enjoys cooking, watching football, and participating in cross-country races. Leonidas is licensed to practice law in California and is a member of the California Young Lawyers Association.
Please feel free to email Leonidas at Nicol@quirklawyers.com.