Aletheia S. Gooden, Esq.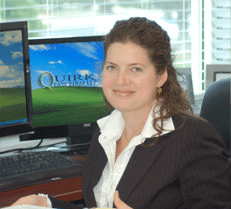 Aletheia is licensed to practice law in California. She received her law degree from University of California, Davis School of Law in 2003. She is published in Environs, Environmental Law and Policy Journal. She received her undergraduate degree from University of California, Davis in 2000, where she graduated with honors with a B.S. in Environmental Policy Analysis and Planning.
Aletheia volunteered as a certified counselor for the Sexual Assault and Domestic Violence Center of Yolo County. She also volunteered at the Voluntary Legal Services Program's Employment Law Clinic in Sacramento, California. She volunteered as a soccer referee for A.Y.S.O. In her free time she enjoys horseback riding, gardening and spending time with her family.
Aletheia is a member of the Ventura County Bar Association, Inns of Court, Women Lawyers of Ventura County, and the Consumer Attorneys Association of Los Angeles.
Aletheia lives with her husband, children, horses, and dogs on a ranch in Ojai, California.
Please feel free to email Aletheia at Aletheia@quirklawyers.com.