Accident Lawyer Ventura, CA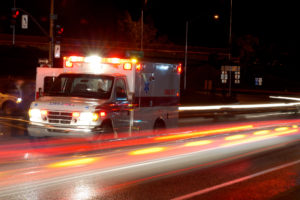 An accident lawyer in Ventura, CA knows that if you are injured as a result of the negligence of another person or group of people, you may be entitled to financial compensation from the person or persons allegedly responsible for the injury.
Quirk Law Firm, LLP is a full-service personal injury law firm. We have offices in Ventura, California and Las Vegas, NV. Our lawyers have over 20 years of combined legal experience. If you have recently been injured as a pedestrian by someone else's negligence, the person to contact is an accident lawyer Ventura, CA residents trust, from Quirk Law Firm, LLP.
Our clients are looked after personally. In an individual, one on one conversation with a lawyer, you will find out how personal injuries work and you will be informed about every step in the process. We are a state-of-the-art paperless personal injury law firm and communicate with you electronically.
Personal Injury Lawyer
People who have suffered serious injuries due to the negligence of others may need to file a personal injury lawsuit to obtain compensatory damages. Now; some examples of personal injuries include slips and falls, people getting their hands caught in machines or furnaces, due to a lack of safety, and more.  At the same time though, personal injuries do not always happen, simply because of poor business practices. Personal injuries can also happen because they are intentional. An example of this would be someone suffering a personal injury, due to a mugging, a robbery, a stabbing, a shooting, and more. In both types of accidental personal injury cases, the person who caused the injury should be held responsible.   
In order to effectively file a personal injury lawsuit, defendants enlist the assistance of a legal professional, such as an accident lawyer. When you hire an experienced Ventura, California accident lawyer from Quirk Law Firm, LLP. you will have a team of professionals advocating for you and your family. We will work with you and your family to create a strategy that is specific to the specific needs of your case that is designed to achieve the most desirable outcome.
Compensatory Damages
In personal injury cases involving accidents, it may be appropriate to hire multiple experts, including accident reconstruction experts, medical experts, and economists.
medical expenses

out-of-pocket expenses

Loss of income

Family services

Vocational rehabilitation

Disability

Inability to enjoy activities

Pain and suffering
Noneconomic damages:
Pain

Emotional anguish

Humiliation

Reputation damage

Loss of enjoyment of activities

Worsening of prior injuries
Sometimes, what people tend to forget is that when it comes to accidents, the pain and suffering that one endures is not always black and white. For example, when talking about the non-economic damages, pain is not always the same for certain victims. For example, some may end up dealing with emotional anguish from the car crash, through examples such as nightmares, flashbacks, guilt, or shame over someone they know losing their life in the car crash. Moreover, humiliation and reputation damage can also happen, when it comes to personal injuries as well. 
To give an example; let's say that an individual gets into a personal injury car crash that is so severe, that one's face becomes disfigured and required surgery. To give another example; let's say that someone gets severe burns, due to a work accident. Both the car crash and burn incidents, would cause humiliation and shame, in relation to guilt, thinking back on how the incident could have been prevented, and more.   
Now, in some states, non-economic damages are referred to as pain and suffering. In addition to the one who suffered the damages, a spouse may be able to recover a type of non-economic damage referred to as "loss of consortium". In the event of wrongful death, or inability to seek legal assistance, a spouse can also be the one to seek legal counsel and fight for compensation for personal injury damages.
Benefits of Hiring an Accident Lawyer
If you were hurt in an accident caused by someone else and want to pursue compensation, it's important to have an accident lawyer in Ventura, CA on your side. Filing a personal injury claim can involve many complexities. Here are some benefits of hiring an accident lawyer:
Know the true value of your claim. If you don't have a legal background, you may not know what your personal injury claim is actually worth. As a result, you may accept a low settlement from the defendant's insurance company. This is one good reason to hire an accident lawyer. He or she will take multiple factors into account when determining the value of your claim, such as the extent of your injuries and whether or not the accident caused emotional distress.
Possess good negotiation skills. After an accident, the defendant's insurance company may try to contact you to work out a settlement. While this may sound good at first, insurance companies are notorious for offering accident victims low settlements. If you have an experienced lawyer on your side, this is less likely to happen. He or she will have good negotiation skills and fight hard to get you the compensation you deserve.
Speed up the process. If you are pursuing compensation for an injury, you naturally want to resolve your case as quickly as possible. With an experienced lawyer on your side, this is more likely to happen. A lawyer will make sure that you submit the necessary paperwork on time, so there are no delays in your case. He or she will also know the ins and outs of the court process.
Provide objectivity. Suffering an injury in an accident can be traumatizing and cause you to feel a wide range of emotions. Unfortunately, these emotions might cloud your judgment and cause you to make poor decisions. For example, you might agree to a low settlement offer just to get your case over with. An accident lawyer will be there to offer objectivity and prevent you from making costly mistakes.
Charge no upfront fees. Most personal injury lawyers work on a contingency basis, meaning they take a percentage of your settlement at the end. This means that your lawyer won't charge you any upfront fees. If you happen to lose your case, you won't owe your lawyer money.

Top 6 Myths About Personal Injury Claims
Unfortunately, when it comes to personal injury claims, there are many myths that you have likely heard that may make you hesitant to file a personal injury claim or that may steer you away from filing a claim at all. When this is the case, it is important to sit down and learn more about the myths and discover the truths surrounding them. 
You must go to court.

Many people believe that once they begin the claims process they are automatically setting themselves up for their day in court. However, this is truly not the case. In fact, many insurance companies will be more than happy to settle outside of court in hopes of saving their company as much money as possible. 
You will be working on the same personal injury claim for years.

While some personal injury claims will take longer than others, you should not necessarily expect to be sitting on your hands for years while awaiting a decision. When you work with a lawyer, know that you will have someone on your side who will try to make the case go as quickly and smoothly as possible. 
The person who injured you is paying.

There are many times when this can be a confusing situation. You might believe that if you file a personal injury claim against someone they will be paying for your damages out of pocket. This is not true and this is why insurance is in place. When you file a claim against someone, you are actually filing against their insurance company and that insurance settlement will pay you compensation.
You have all the time in the world to file your claim.

This is simply not true. Regardless of the state you live in, there will be statutes of limitations regarding the length of time you will have to file. If you decide to file a claim after the statute of limitations is up, you will likely be unable to get any kind of compensation for your injuries. 
With minor injuries, you do not need a lawyer.

When it comes to your injuries, you never know how bad they are or what kind of treatment you will need. It is in your best interest to seek medical help as quickly as possible after the accident and also get help from a lawyer you can trust to see what kind of claim you may be able to file. 
Filing a claim or lawsuit makes you greedy.

This is far from the truth. If you were injured after someone else's negligent actions caused an accident, you have every right to seek compensation for those injuries. Not only is it possible that you have a physical recovery ahead of you, but you may also have a mental and emotional recovery to deal with as well.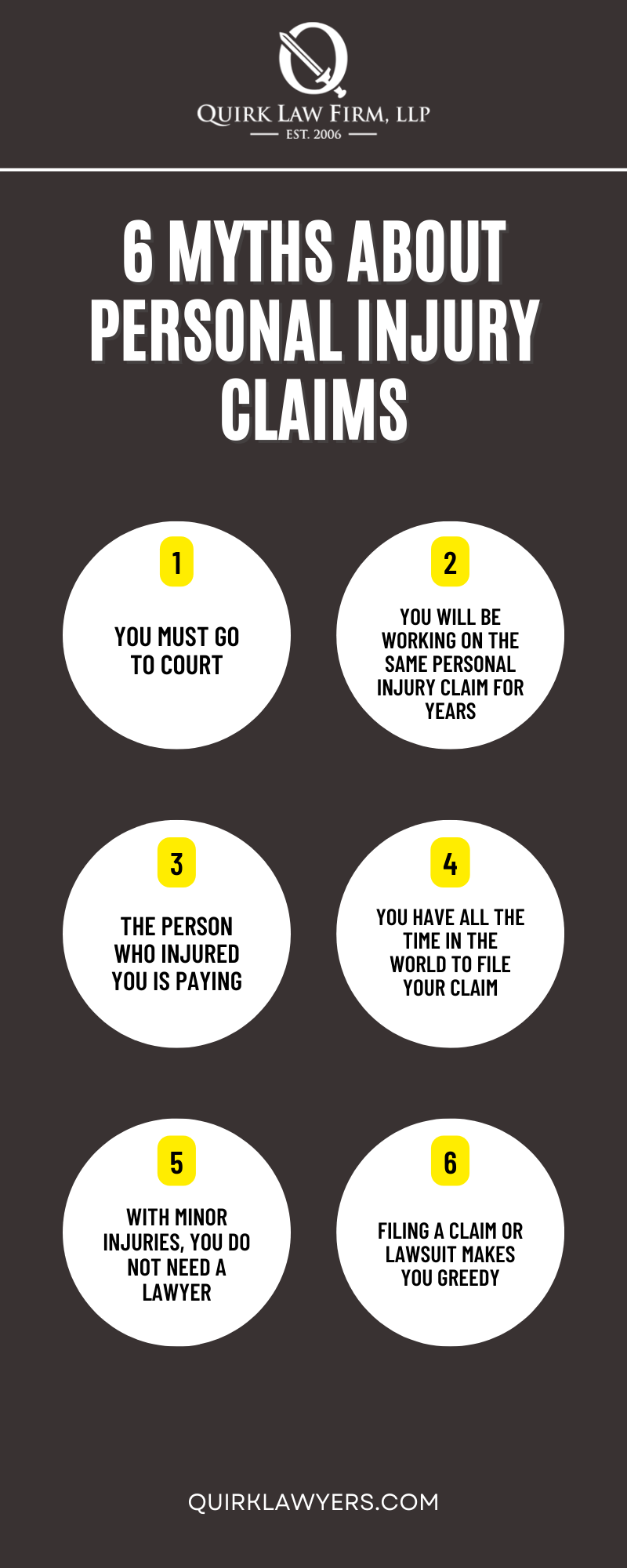 Accident Lawyer Ventura, CA
Our customers receive personal attention. When you meet with a lawyer in person, you will learn from them to gain a complete understanding of how a personal injury case works, and you will be notified about every step of the process. We are an advanced, paperless personal injury law firm, and we will communicate with you electronically for your convenience and ease of access to updates. 
Quirk Law Firm, LLP is a full-service personal injury law firm. We have offices in Ventura, California and Las Vegas, Nevada. Our lawyers have more than 20 years of comprehensive legal experience. If you have recently been injured in an accident due to the negligence of another person or entity, please consider contacting Quirk Law Firm, LLP's accident lawyer in Ventura, CA trusted by local residents.
Important Questions to Ask About Your Personal Injury Case
If you're looking for an accident lawyer Ventura CA trusts to help you after your accident, look no further than the professionals at Quirk Law Firm, LLP. We're dedicated to providing our clients with personalized case management, and we're happy to answer any questions you might have about your accident, and whether compensation and closure is possible.
Read on to get some answers to some common questions that people have about their accidents, and get in touch with us as soon as possible to see how we can help.
What is a Slip and Fall?
Despite what you'd expect, slip and fall accidents can cause serious and long-lasting injuries, and they can turn out to be extremely costly in the long run. A slip and fall accident is any kind of slip-up or minor mishap that can take place on someone else's property. Anything from a bump to the head to a tumble down some stairs can qualify as a slip and fall, but they should always be reported to the property owner or manager in case the "minor" injuries turn out to be more major.
Can I Expect Workers' Compensation for a Workplace Accident?
If you experienced your accident when you were on the clock and in the workplace, you should be able to file a workers' compensation claim. However, if your employer refuses to allow you to report your injuries, or you suspect your injuries were caused by negligence on the part of your employer, you may want to get in touch with a Ventura accident lawyer.
What is a Premises Liability Claim?
Premises liability claims are any kind of lawsuit that holds a property owner or manager responsible for accidents and injuries that occured on their property. Common examples of premises liability claims include injuries in the workplace, or slips and falls that cause customers or visitors to hurt themselves while on someone else's property.
Does a Dog Bite Qualify as a Premises Liability Claim?
While premises liability claims are oftentimes related to injuries that occured while on someone else's property, the label extends to injuries that occur when interacting with someone else's property. You aren't physically on a dog when it bites you, but that dog is someone's property. The dog owner's failure to warn you about their dog's aggression, or the dog owner's failure to properly leash and/or train their pet can qualify as negligence – and negligence means a potential lawsuit.
What Should I Expect from an Accident Lawyer?
When you get in touch with an accident lawyer, you're taking a step towards justice, closure and compensation. But it's important to remember that not all accident lawyers are created equal. You should look for legal representation that really cares about your case, and won't look at you like just another paycheck. You should look for dedicated and personalized case management and a free consultation. You should look for Quirk Law Firm, LLP.
Don't hesitate to get started. Reach out to us today, and see how a Ventura accident lawyer from our office can help you get the closure you need.